Employee Time Clock Software: How to Choose the Right Solution
Time clock software is no longer an optional tool to have – it is now required to ensure you track employees' work hours, time off, and breaks accurately and remain compliant with all federal and state laws.
When choosing employee time clock software, you must look at each solution's benefits. Some companies will offer free trials, allowing you to try out the software to guarantee it meets your needs. You should review the various online timecard system packages provided by different companies and compare capabilities such as user-friendliness, security, technical support, and other features required by your business.
You will find many employee time clock software online; however, it can be confusing to figure out which ones are reliable, easy to use, and best suited to meet your requirements. The following are some of the factors to consider when choosing employee time clock software: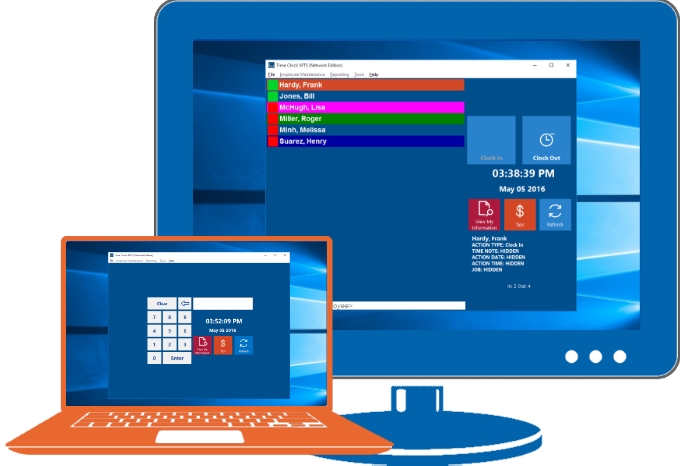 Customer Reviews –
To know which online time clock software is best suited for your business, you should read the reviews written by previous customers. There are many review sites online that you can visit to read reviews written by customers who have already tried different employee time clock software packages. Make sure that the company you choose has a history of satisfied customers.
Software Up-to-Date? –
Look for online timesheet software that is frequently updated and remains competitive with other time tracking solutions. The business landscape and employee time tracking regulations are continually evolving, so you'll want to ensure that your time tracking solution does the same.
Features –
Each time tracking solution comes with its own set of features. You will want to look for a solution that comes with a robust set of required features, but not too many that you become overwhelmed with options. While you will want to invest in the best time clock software available, only invest in a solution with the features required to meet your business needs.
Price –
Most employee time tracking software solutions come with varying pricing models. Some have flat fees, while others come with a per-user price or location fee. It's essential to look for a solution that meets your business needs but is also aligned with your budget. If you are completely sold on a solution, opt to monthly until you're ready to commit long term.
Product Delivery Time –
When looking to invest in employee time clock software, make sure to implement it as quickly as possible. Online time clock software is available to customers immediately after signing up for an account. You don't have to wait for hardware to arrive as you can take advantage of devices you already have on your hands, such as a computer or smartphone.
Support –
Look for software that can support your business by email, phone, or chat immediately after making your purchase. Time clock software, while typically simple to use, can take some time to set up. Most time tracking solutions come with a knowledge database that users can reference, but you'll also want to make sure they have live support available as well.
Security –
When purchasing cloud-based time clock software, make sure to check that the company you are dealing with has a good reputation and has security measures or backup systems in place in case of data loss. Whether caused by the system itself or a user error, it's crucial to guarantee that it can be recovered promptly if any data is lost. As you can see, choosing employee time clock software can be difficult, but it can be done. By choosing the right timesheet management solution, your company will stay ahead of the competition.