Benefits of Replacement Windows for Your Home
When windows start showing signs of damage like becoming foggy, drafty, difficult to open and close, or frames get rotten frames, it's time to consider replacing your windows. For most homeowners, the primary reason for replacing old windows with new ones is to improve their home's look. New, modern windows undoubtedly have great aesthetic value, but window replacement offers several other benefits.
Window replacement may not be at the top of your list of home improvement projects. However, you may not know that replacing your windows could yield one of the highest returns on your real estate investment. The latest windows are designed to save energy, provide consistent home temperature, improve your home's curb appeal, and increase security. So, whether you live in high humidity or below-freezing temperatures, window replacement can offer you many benefits. If you're still deliberating whether or not to do window replacement, let's take a closer look at some benefits of replacing your old windows.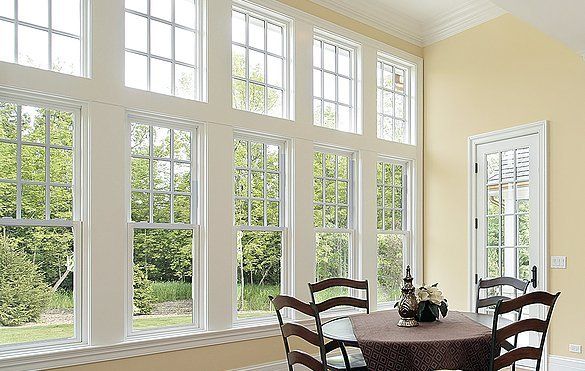 Lower Energy Costs
Compared to other projects, window replacement is one of the most cost-effective home improvements you can make. You can lower your energy cost by replacing your old, damaged windows with advanced, energy-efficient windows. This is because well-insulated windows with Low-E protection and insulating argon between the panes maintain consistent room temperature. This helps in reducing the pressure on HVAC and consequently lowers utility bills. The windows with Low-E protecting double-pane or triple-pane glass with argon have a better seal to prevent air leakage and block 84% of the sun's ultraviolet rays.
Curb Appeal and Resale Value
If you replace your windows, your property value may increase, increasing its resale value. Window replacement projects enhance the curb appeal that can make or break the sale of a home. New, energy-efficient windows can significantly impact the exterior, separating your home from others on the market. You can easily find a new window in several types, sizes, colors, hardware finishes, and styles to pick the one that matches your home's design. You can increase your property's resale by boosting your home's curb appeal and adding visual interest.
Increased Comfort
After a hectic day, we all return to our homes for comfort. Nobody likes to return to a home that is not comfortable during all seasons. When windows get old or damaged, they leak air, which leads to uncomfortable home temperatures. But when you install new windows, you can reap various benefits like natural light, steady room temperature, noise reduction, improved views, and custom style. The advanced windows are also durable and easy to clean and maintain. These windows can also reduce dust and allergens to protect your health.